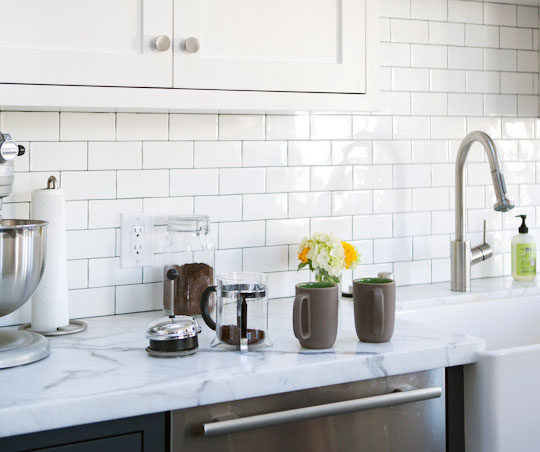 Marble is one of the most beautiful, unique and metamorphic rocks around. Marble is a limestone that is formed after the process of recrystallization through heat or pressure.
It enhances the look of our kitchens, bathrooms, counters and is used in decorative arts like furniture, fireplaces, clocks, light fittings and lampshades and is even used on floors. It has a dense crystalline structure and it has great strength and durability. It varies in colors because in the process of crystallization original limestone mixed with natural elements result in different colored marble.
Marble is known to be hard wearing yet brittle like all stones. However, one of the most common misconceptions about marble is that it is unbreakable, but poor handling and exposure to harsh chemicals can damage the stone. Never use lemon juice, vinegar, wine and other acidic ingredients on marble, it can scratch the surface and remove the polish.
Marble is porous therefore can be easily stained. It needs special care when cleaning, especially with light colored marble as the stains are more visible. It should be cleaned weekly and stains should be removed instantly otherwise over time it will lose its shine and charm.
Things you need:
1) Soft cloth or sponge
2) Warm water
3) Paper towels
4) Natural stone or marble cleaner
5) Baking soda
6) Marble polish
Wipe marble countertops regularly with plenty of lukewarm water and a few drops of mild liquid dishwashing detergent or baking soda. Let it dry for about a minute before rinsing with fresh water. Dry the marble countertop with a soft, dry cloth. If you have streaks and a dull finish, it may be because there is still soap residue on the surface. Rinse the sponge or cloth again with hot water and wring it out thoroughly to remove most of the excess water. Wipe over the surface again to remove any residue. Keep hot items off of marble, always use a folded towel or potholder for protection. Use coasters to prevent spillage onto your marble as acids in fruit juice and carbonated beverages can etch a shiny surface. Apply a marble polish occasionally to the surface to restore shine and brightness.